STEEL BUILDINGS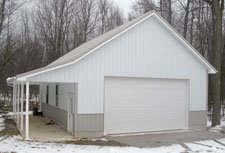 We are a proud Corle builder and supplier.
Corle Building Systems Provide:
KynarŪ 30-Year Warranty Paint Finish is standard on all Corle Panels & Trim.
25 Year Limited Warranty roof and wall panel warranty at no extra charge.
Their building systems lower labor cost and completion time. Check out CORLE'S WEBSITE> for details and building design ideas.
FREE ESTIMATES - CALL 419-937-2838